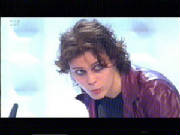 Some Of My Favorite Shit:
Music Types: Classic Rock, Goth Rock, Alternative, Pop, Metal, Hard Rock, Some Rap..R ~N~ B...LiL Country & LiL Classical...Oh Yes!! Can't forget Techno!!!
Bands/Groups: White Zombie, 30 Seconds to Mars, Incubus, Lacuna Coil, Velvet Revolver, Rage Against The Machine, Alice in Chains, Type O Negative, Audioslave, Stone Temple Pilots, Godsmack, Linkin Park, Slipknot, Disturbed, Korn, Holymen, Crystal Method, HIM, Nightwish, 69 Eyes...and more I can't think of right now...
Singers: Rob Zombie, Alice Cooper, Avril, Lindsey Lohan...can't think of any more off hand...
Movies: Hackers, The Bad Seed, Daredevil, 10 Things I Hate About You, S.W.A.T., Dirty Dancing, Steven King's IT, The Liar's Club, Fast and the Furious...etc...